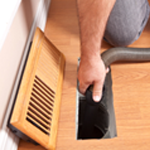 Why should I have my air ducts cleaned?
Air ducts naturally accumulate sizeable deposits of dust and other contaminants over a period of years.
Dirt deposits can reduce the efficiency of your heating and air conditioning system and even cause physical discomfort and illness by degrading the quality of air you breathe indoors.
Dirt deposits in your air ducts actually act as food for organisms such as dust mites.
Contaminates build up inside the return ductwork. Traditional heating and cooling systems recirculate the air in a home via supply air ducts and return air ducts. Many homes have inefficient filters, which trap less than 10 percent of the particulate that is circulated in the system. If not trapped by the systems air filter, the particulate accumulates in the duct work and on the internal components of your furnace or fan coil.
Cleaning your duct work eliminates these contaminates with the following benefits:
The air in your facility will be cleaner, fresher and healthier.
According to EPA indoor air can be up to 70 times more polluted than outdoor air.
Office furnishings and appointments will stay cleaner longer.
Merchandise and displays will stay cleaner and be more presentable to your customers.
Customers/Clients notice a clean environment-Satisfied customers translate to increased sales.
You and your family should experience fewer symptoms of illness, allergies and respiratory problems.
According to the American College of Allergists 50% of all illnesses are either caused or aggravated by polluted indoor air.
Healthier employees, translates to fewer absences and increased productivity.
The American Lung Association states Legionnaire's Disease, that killed 29 people in 1976, was spawned in air conditioning ducts.
Demonstrating a commitment to indoor air quality provides better relations between management and employees.
Mechanical units will perform more efficiently when coils and blowers are cleaned providing less energy costs.
According to EPA a buildup of .042 inches of dirt on a heating and cooling coil can result in decrease in efficiency of 21% for your cooling/heating system.
Well-maintained mechanical components last longer, reducing costly system repairs.
Eliminate the dirt that acts as food for dust mites, bacteria, mold and other micro organisms.