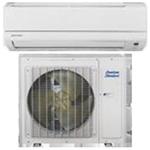 How do you get cleaner, more comfortable air flowing into a home that has no central HVAC system? What about when you've put in an addition to your home that's isolated from the existing ductwork? Ductless HVAC systems are the answer. They provide durable, energy-efficient heating and cooling solutions for these and other situations. Furthermore, you have more control over the air quality needs of specific areas. You can implement single-zone climate control and manage the temperature from room to room.
Duct free heating and cooling systems make your home's individual rooms or other small spaces more comfortable. Remember, just like whole-home systems, the higher the SEER and HSPF ratings, the more efficient they will be.
We offer a variety of through-the-wall packaged terminal air conditioners (PTAC) and duct free heating and cooling systems to meet any individual room's needs.